About the Founders
Lynette
Lynette was a co-founder of Feline Outreach, and served on the board of directors as President from 2006 to 2009.
I have always loved cats, but never had the privilege of sharing my home with one until 1986. That summer, an aquaintance asked me to take care of his cat while he was out of town for a few months. I enjoyed Monet's company, and planned on adopting my own cat once Monet returned home. To my suprise however, the aquaintance didn't ask for Monet back. He was hoping I would keep her. Well, of course I did. I enjoyed many years with Monet, and have had the great fortune to have several other wonderful cats in my life.
Meow Meow
In 2004, one of my cats, Meow Meow was diagnosed with diabetes. I was shocked and dismayed, and determined to learn more about how to treat her illness properly. Thankfully, I was able to find information on testing blood glucose levels at home - it was a tremendous relief, as my biggest fear was injecting more insulin than needed. I also learned about the research indicating a low-carbohydrate diet would benefit diabetic cats, lowering their need for insulin. Since I already meal-fed dry food and canned, it was a simple matter to switch to all canned food.
I soon learned that the change not only benefited my diabetic, but also my obese cat, Omaha! For almost two years, I'd rationed Lite dry food for Omaha, and felt terrible as he cried from hunger. Now he could eat all the canned food he wanted, and the weight was just melting off. Another cat that had always vomited frequently, was vomiting much less often. I later adopted a cat with severe anemia and gastro-intestinal problems, and found he benefited from a better all-wet diet as well. I quickly became a cat food fanatic.
In addition to all the knowledge I've gained since I began my quest in 2004, I've also gained incredible friends - including Jenny and Trina, who founded Feline Outreach with me.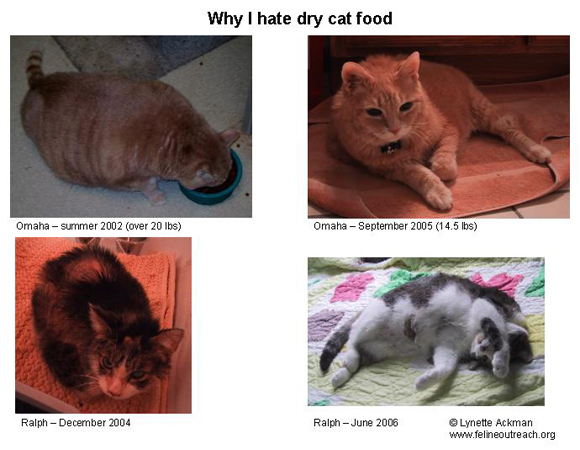 More pictures of Lynette's cats are here, and her foster cats here.